Shopping Cart
Your Cart is Empty
There was an error with PayPal
Click here to try again
Thank you for your business!
You should be receiving an order confirmation from Paypal shortly.
Exit Shopping Cart
Premises Security Experts, Inc.
Safety & Security Professionals
CALL: 609-822-2626
| | |
| --- | --- |
| Posted on December 8, 2021 at 2:35 PM | |
THE MANDALAY BAY MASSACRE
HOW FORESEEABLE WAS IT?
By
Andrew P. Sutor
If a lawful business patron is harmed or seriously injured while a guest at a facility in the hospitality industry, there is a distinct possibility that the defendants may not have provided a reasonable standard of care for the safety of customers and guests. Establishing the foreseeable risk factor is critical in determining the reasonable level of security required to meet the prevalent risk. How does one prove that level of risk? It needs the services of a competent and able safety and security expert to identify the risks and make a recommendation as to what level of security is necessary to meet that risk.
The typical analysis begins with looking for and evaluating previous similar crimes or incidents. It was once accurately stated that "what's past is a prologue to the future." A quick study of risk management tells us that if a type of incident has occurred previously, there is a higher probability of it happening again. It also means there is a higher standard of security, preventive action, etc. required to be in place. It will be difficult for defense attorneys to support a position that no additional protection was needed if there exists a history of problems that are relevant to the new incident.
This security expert used multiple credible sources in a scientific approach to determine true foreseeable risk at the scene of the crime on October 1, 2017. That includes date from FBI Uniform Crime Reports (UCR) and local police Computer Aided Dispatch Reports (CAD), along with valuable private sources such CAP Index risk data from CrimeCast, a personal favorite of this security and crime expert. A compilation of that data will provide a more accurate picture of the actual risk involved, prior to the incident. The following is a selection of evidence I uncovered in the horrific mass murder at the Mandalay Bay Casino Resort on October 1, 2017.
FBI Uniform Crime Reports indicate that homicides in Las Vegas have increased a whopping 108% from 2012 to 2016, leading to increased risk in the area running up to the horrific crime as evidenced in the below chart:

A CAP Index report confirms the extraordinarily high foreseeable risk of serious crime at the Mandalay Bay Resort with a homicide risk score of 372, 100 being average. That comprehensive report documents the foreseeable risk at the time of the event, as well as five years previous and five years going forward.
Crimecast Site Information Map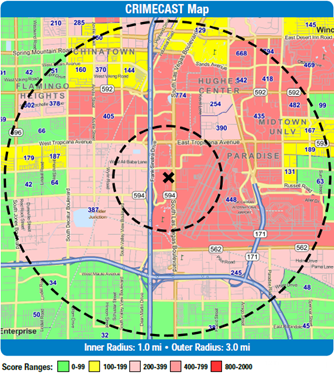 Another reliable and accurate data source for determining foreseeable risk is the local police Computer Aided Dispatch (CAD) reports. These reports document all of the police calls at the specific address, in this case, 3950 S. Las Vegas Boulevard, as Vegas, NV 89119, the address of the defendants. It is strongly suggested that five years previous CAD reports be obtained from the Las Vegas Metropolitan Police Department. In the case of multiple law enforcement jurisdictions, it is recommended that you obtain this essential data from both sources, such as the Clark County Sheriff's office in this matter.
Furthermore, both major defendants (MGM and Live Nation) should have known that there was enormous foreseeable risk involved considering a recent spate of mass shootings and killings related to terrorism at entertainment venues throughout the world, such as the Pulse Nightclub in Orlando or the Bataclan Theatre in Paris. Do they not recognize that the 9/11 terrorists were "scoping out" potential targets along the Las Vegas Strip just before taking the Twin Towers down? The ringleader of the September 11th attacks, Mohammed Atta, and at least four of the other 19 hijackers made six visits to Las Vegas between late May and mid-August 2001.
It appears that some authorities in Las Vegas are now, in fact, taking notice of the foreseeable risk of terrorism by installing $7 million in protective bollards along the Strip. This is a reasonable security precaution to deal with the new terrorist tactics of using motor vehicles to mow down innocents. But in the case of these defendants in the Mandalay Bay mass shooting, it is, "too little, too late."
n conclusion, given the availability of foreseeable risk data and the totality of the circumstances this expert can avow, with a high degree of professional certainty, that the foreseeable risk on October 1, 2017, was enormous.
The scientific approach summarized above that includes actual crime and foreseeable risk data can significantly contribute to your successfully litigating premises liability, security and negligence cases. By showing the correct foreseeable risk and the reasonableness, or lack thereof, of your defendants' security measures, negligence can be proven in the pursuit of justice for the victims.
Andrew P. Sutor is Principal at Sutor & Associates, LLC, which provides professional safety and security consultation and expert risk assessment services for companies wishing to avoid premises liability and negligent security cases. Reach Andrew at [email protected] or 609.822.2626
Categories: None
/