Shopping Cart
Your Cart is Empty
There was an error with PayPal
Click here to try again
Thank you for your business!
You should be receiving an order confirmation from Paypal shortly.
Exit Shopping Cart
Premises Security Experts, Inc.
Safety & Security Professionals
CALL: 609-822-2626
| | |
| --- | --- |
| Posted on December 8, 2021 at 3:05 PM | |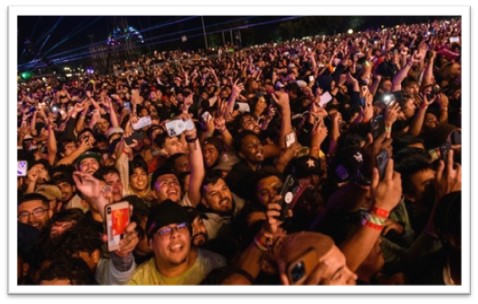 Houston's Tragic Crowd Crush
By
Andrew P Sutor
Unfortunately, we live in dangerous times, especially when venturing outside of our homes and residences to engage and participate in the general "pursuit of happiness" such as attending a music concert. Far too often people suffer serious injury, and even death while doing so.
Sadly, ten concertgoers died and hundreds more seriously injured in a crowd stampede while attending Travis Scott's Astroworld Festival rap concert presented by Live Nation in Houston, Texas on Friday, November 5, 2021.
Live Nation, the world's largest concert promoter, has an abysmal history when it comes to reasonable security. For example, it was not in place when fifty-nine concert attendees were slain and many hundreds injured, at the Harvest Festival in Las Vegas on October 1, 2019. (There were more than four thousand Plaintiffs in the Mandalay Bay Massacre.)
The tragic crowd crush incident at the Houston rap concert was foreseeable and predictable. The size of the crowd, (50,000 + vs 22,000 in the Las Vegas massacre), the nature of performers (Rap musicians require more security than Country & Western ones due to heavy use of drugs, etc.), low-security budgets, inadequate law enforcement presence, and third-rate security guards clad in T-shirts with "Staff" emblazoned on the back, were all likely present and the proximate cause of the latest crowd crush outrage in Houston.
Innocent victims, or sometimes, sadly, their survivors, often seek out legal redress and compensation for their loss through their attorneys. Most of the elements of these cases are obvious: the Serious damage was done; a likely breach of the legal duty of involved entities to provide for a minimum standard of care for their customers, patrons, and guests. The question is, how does counsel prove proximate cause and negligence in the case?
To bring a premises security case to a successful conclusion, plaintiffs' attorneys need to establish the actual level of, and foreseeability of risk at the time and place of their occurrence. You require an accurate and genuine "foreseeability" of risk assessment by a crowd control professional which is often hidden, and hard to prove.
Once that is established, attorneys need to make their case around the evidence that the defendant's security budgets and measures in the face of that risk were inadequate or unreasonable. An experienced expert in law enforcement and the private security field can determine the level of risk and whether the security provided by the defendant was adequate or reasonable to counter that risk.
Andrew P. Sutor is a Principal at Premises Security Experets, Inc., which provides professional security consultation and expert witness services for law firms and attorneys pursuing premises liability and negligent security cases. He can be reached at [email protected] or 609.822.2626
Categories: None
/